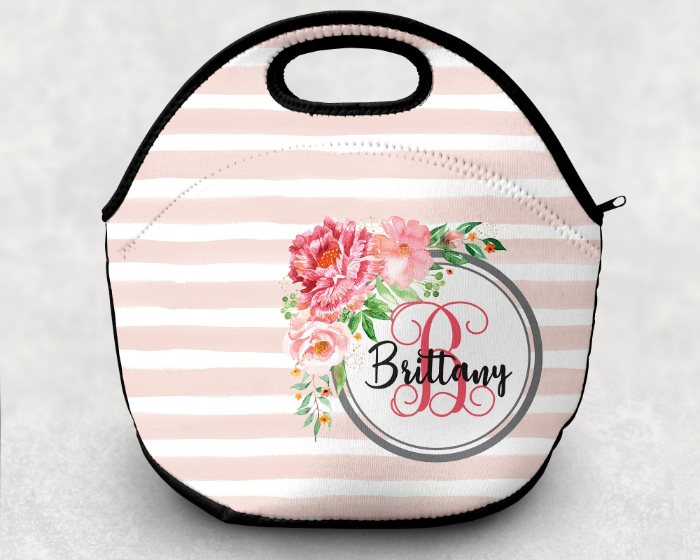 Putting in a monogram to your lunch box is a pretty fun thing to do. So if you are confused that either embroidery or stitching through the internal lining would ruin the insulation properties of your lunch box. Then you don't need to worry at all. You can do any embroidery or stitching on your lunch box. So adding a monogram to your lunch box is not going to change it. Instead, it would make it more attractive and cute.
One more thing is that embroidered lunch boxes are expensive to buy. If you have two or three school-going kids and want to purchase some cute and cool lunch boxes. It would be quite costly for you, and we know kids want a new lunch box for their schools. And these expensive lunch boxes got terrible and worn out the year to year. So here, you would get some cool ideas, tips, and tricks on how to monogram a lunch box, and it would be very easy and cost-effective.
I also put a monogram on my lunch box and learned so many new techniques, and I would share them all with you. But you should be aware that you may need practice and experimentation to embroider a monogram on your lunch box. And it would not be easy for you to monogram a lunch box with precision for the first time. But I assure you to teach in the easiest way possible.
However, I recommend you practice embroidering a monogram on some other fabric than your desired lunch box. As if you are doing it for the first time, then it is not a good idea to ruin your kid's favorite lunch box. So it would be best if you practiced on some other fabric rather than your lunch box. And when you are satisfied with your embroidery results, go to embroider your kid's lunch box.
There are only a few things that you have to remind yourself of before adding a monogram to your kid's lunch box and getting your kid a lunch box with a cool monogram.
Tips & Reminders For You Before Picking Up A Lunch Box To Add A Monogram
The correct lunch box is essential for adding a monogram. Remember all the lunch boxes are not suitable to be monogrammed. The following are some important tips for picking up the right lunch box.
Choose a lunch box that unzips or unbuttons easily
Choose a soft padded lunch box
It would be easy for you to add a monogram to it.
Take a thin lining lunch box because it would not be easy for your machine to monogram it if it has a thick insulation material.
And it can ruin your sewing machine needle as well.
Remember to embroider the front side, so pay extra attention while embroidering it
Don't stitch on both sides.
But if it happens, you have to tear all the stitches and start your work again.
So be careful while stitching, and don't sew on both sides.
Always test a small area of your lunch box before adding a monogram
Otherwise, it can ruin your sewing machine.
The test is important before embroidering a monogram on your desired lunch box.
Choose thread color wisely.
Go for the color you like the most.
You can use thick thread and embroidery thread as well.
Some Other Vital Materials For Monograminng A Lunch Box
The vital material is given below that you should have.
Embroidery thread matching your lunch box fabric
Your wanted embroidery design for the monogram
A scissor to trim out extra threads
Marking chalk or other drawing tools
You can use a water-soluble marker as well
A Temporary stabilizer spray
It is important for extra hold, and with it, your fabric will not move
A Temporary fabric adhesive is for your convenience
A buckram paper is optional.
You can embroider without it because the lunch box is made of some strong fabric
For beginners, it is an essential
An Iron so if you are using buckram paper, then iron is used to attach the buckram paper
Important Reminder For You
Now when you have your required material to monogram a lunch box, let's start our desired task. This material is essential for embroidery. It is always better to have all the essential stuff before starting work because it is inconvenient not to have it. So always make sure that everything is present before starting your work.
Step By Step Guide For You On How To Monogram A Lunch Box?
Monogramming a lunch box tutorial included the following steps that are being discussed in detail for you to consider.
Marking your lunch box to embroider
The embroidery process is straightforward and quick, so you need to add initials or two or three letters instead of your full name. Firstly mark the lunch box where you want to put your monogram, so for this, use your marking chalk. There are other marking tools available as well. You can opt for that as well. But use a water-soluble pen because you know chalk dust away quickly and a water-soluble marker washes away, so choose according to your ease.
Now mark the embroidery design. You can go for any design you want so that you can make it yourself, and you can download a template from the internet, cut it down and go for it. One more important thing is you can put the design on buckram paper as well, then paste it on the lunch box with the help of an iron. After your embroidery is done, you can remove it. It would provide extra stability to your lunch box. Keep in mind that so much design software is available online that you can choose one design and get results like a pro.
Set your embroidery machine
Place the embroidery hoop in your machine. Use temporary fabric adhesive, if you feel that your lunch box is not stable, you can use some extra pins, but temporary fabric adhesive is enough. Next, review the template design compared to your lunch box, then line up your embroidery with the center of your marking in the lunch box. Always start your machine sewing from beginning to end.
Move the lunch box fabric for adjustment to print design, and do changes if required. I recommend making a rough design on some extra fabric before putting the lunch box. It would give you a clear idea of how your machine is working. And you can achieve the best results to embroider a monogram on your lunch box. Always double-check your embroidery machine before starting your work because it would be more convenient to save yourself from any distress later.
Start adding your monogram to the lunch box
Now thread the embroidery machine needle, make sure about the thread color, and choose one that looks decent and nice on your lunch box. Be gentle while working with your lunch box. Keep a close eye on your lunch box and make sure that the lunch box is stabilized and not moving while embroidering. Now start your embroidery machine, and with great care. Advance the lunch box to embroider with one hand and control the embroidery machine with your other hand.
I have mentioned earlier that it needs practice. With practice, it would be very easy for you. However, if you know a little about sewing or embroidering, then it is not difficult for you to handle the machine. However, if you are a beginner, you have to pay extra attention. Be careful while using the machine took all safety precautions, and keep practicing.
We want to recommend you watch a YouTube tutorial as well, giving you a better understanding. First, watch the YouTube tutorial and then read this article, and then you are good to go. And You can embroider with different color threads. It would enhance the beauty of your design, but one color thread would also look nice and decent. It is recommended you ask about your kid's favorite color and go for it and make them happy. While adding a monogram to your lunch box, download a template design for comfort and ease. But you can make your design as well. It is totally up to you.
Final touches
When you are done with your embroidery, remove the hoop and remove your lunch box gently. Discard all the pins if you add them for extra stability. See the design you have to make and enjoy it.
Don't use a hard hand. Remove the stabilizer as well as keep all the stuff in a box. Now for a neat look, trim or cut out the extra thread with the help of scissors and remove the markings if you use a water-soluble marker, then wash it with water. Now you have learned how to monogram a lunch box.